Inside Alice Hill's annealing oven, glass designs take their turn cooling down.
Before they ended up there, they are first carefully blown from molten glass removed from a crucible where the heat goes up to a daunting 1100-degrees centigrade.
They are paddled into shape and resurrected to life, manifested in bottles, plates, and an endless array of glass artefacts.
Lately, work and life have bustled for the mother of three.
And as time winds down to September 25 nerves have been hectic and restless at Hot Glass Fiji – her studio, business centre, and home on the Coral Coast.
Darting in the artist's mind are two upcoming events, a three-day exhibition at the Outrigger on The Lagoon Resort starting on September 25 2020 and the annual Born From Fire exhibition in early December called "The Return".
To make the two events both a reality and an astounding success, Hill has been on full steam mode, her team, Pita, Laisa, and assistant Sam, in tow.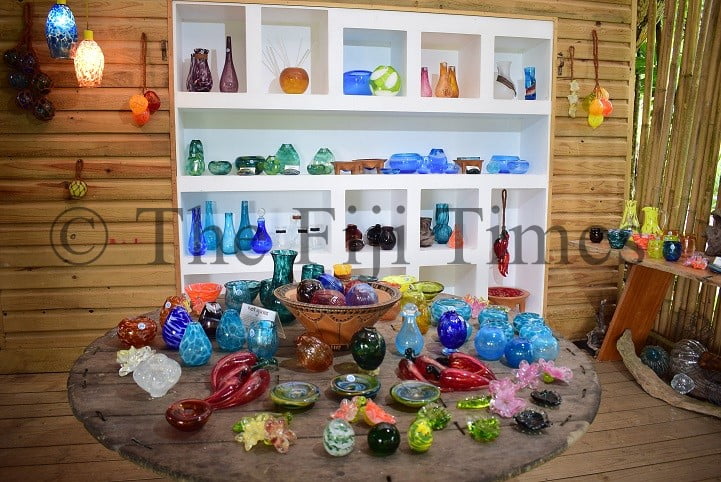 Moving to Fiji
When the entrepreneur moved to Fiji with her family in 2006, she and her husband set up a scuba-diving business.
They sold the business in 2010 and started Hot Glass Fiji in 2013.
"We started with the bare bones, a sandy floor and a simple roof," she said during an interview at her Sunset Strip studio.
"Pita was employed first. I trained him to become a glassblower and 6 months later Laisa was employed, then Sam joined as an assistant."
Since those humble beginnings, the family business now enjoys modest levels of success.
"When we left the UK in 2003 and came to Fiji, my husband, who is a diver, had always wanted to set up a scuba diving business. So we decided to do that."
The couple had four dive shops – at the Mango Bay Resort, Hideaway Resort, Outrigger on the Lagoon Resort and The Beach House.
But after nine years of "loving it and enjoying the ocean", Alice realised she was missing her craft.
Her husband supported her career shift to "something totally fresh in Fiji".
Things started rolling when a friend designed for Alice a unique furnace that could be turned on and off to suit the type of workload envisaged for Fiji.
Normal glass blowing furnaces are on 24 hours a day and seven days a week, which uses up an enormous amount of energy.
Early days
During Hot Glass Fiji's early days, Fijians knew little about glass. People saw it in windows, bottles and shops but didn't know how they were made.
However, over the past eight years, things have changed.
The awareness of glass-blowing in Fiji has grown from strength to strength.
Many now understand how glass blowing works from liquid to solids.
The expert herself has vastly improved.
"First of all, I've improved greatly," Alice said, "It's one of those skills that you keep learning and practising".
"So when I started again after a 15-year break, I was a bit rusty really."
Upcoming exhibition
Last year, Alice and Shane Bower's Born from Fire exhibition "Reflections of Fiji", held at the Grand Pacific Hotel in Suva, was a fantastic show of glass and metal art.
This year, Alice holds her first solo glass-blowing exhibition at the Outrigger from September 25 to 27.
This will be held inside one of the lobby shops which will be turned into a gallery.
For the first time too, her furnace will be taken to the lobby where Alice and team will blow glass for hotel guests.
"We are looking at a weekend festival of glass where guests at the Outrigger will be able to watch live glass-blowing demonstrations and also purchase a piece they want."
On Saturday, September 26 there will have a featured luncheon, where Alice will talk about the exhibition.
People can buy tickets to join a special lunch.
For everyone who books at the Outrigger and joins the exhibition, their names will go into the draw to win a piece of glass.
The exhibition will also feature a silent auction.
Hot Glass Fiji will donate a glass piece from the gallery and people will be allowed to write their bids on a piece of paper and the highest bidder will win the glass.
Proceeds will go to a food drive for Sigatoka school food lunches to help students whose families have been affected by COVID-19.
Born from fire – "The return"
In December the annual Born From Fire exhibition titled "The Return", with Shane Bower, will be held at the GPH. The guest artist for the event is yet to be confirmed.
"The Return is about everybody being conscious about returning to families, to the land, to culture and traditions to support themselves and their communities," Alice said.
"It's about how we are all returning back to where we are from to help us through this difficult time in our history."
For the first time, Hot Glass Fiji's glass-blowing studio will be going to the GPH and join Shane who will bring his metal workshop. There will be live demos of glass and metal art, which is new for Fiji.
Close to Christmas, the exhibition gives people the opportunity to buy glass and metal-inspired gifts and presents to loved ones.
Glass blowing
To make glass, inside the furnace 15 kilos of glass nuggets, which are special glass-blowing glass from Germany, are fitted and heated to up to 1100 degrees centigrade.
It takes four hours to melt the pellets.
When the glass is molten glass is removed from the furnace and taken to a workbench and moulded into shape by blowing into special metal blowpipes.
Carbon prevents the layer from sticking to molten glass.
The designs are then put into an annealing chamber to cool before being given a finishing touch like a polish using diamond pads.
Hot Glass Fiji designs are inspired by Fiji's flora and fauna, from the land to the sea.
Everything in the Hot Glass Fiji studio is inspired by Fiji whether its culture, nature or heritage.
"I have to think of the theme, what it looks like and what I want to represent or show in the pieces," Alice said.
"It could be inspired by glistening leaves that collect in a pond in daylight, the beautiful turquoise and teal colours of a lagoon in Kadavu or celebrating coconut as the Pacific's very own tree of life."
Alice's journey
Alice's journey in glass blowing started when she was 16 in the UK.
Rather than going to college she already knew her vocation was in the arts.
So she did a two-year B.tech foundation course in design at the end of which, she decided to do a two-year degree course.
During the two foundation years, she visited a number of glass blowing studios.
"I saw guys in the studio laughing and making these crazy things. It was hot and they were sweaty and I just thought this is so much fun and I want to have a go."
So she applied to do a three-dimensional degree in glass, specialling in glass-blowing.
In the big world, after finally graduating, Alice said she had all the ideas but didn't know what to make of them.
"I had all the concepts but lacked the skills. So I went up to the English midlands and did a further two-year post-graduate study in glass blowing."
"This time I just blew glass every day, repeating designs after designs, perfecting my craft and learning how to translate all the ideas I had in my head into the glass."
Alice gained enough skills to get a job in London, doing glass-blowing for a company over and over again. After two or three years of doing that, she was "burned out".
A new life in Fiji
"I had enough of glass and the art world that I just needed a break. That's when my husband and I met and decided to pack up and go to Africa and set up a dive business."
"We had our first son and then decided we wanted to settle somewhere wonderful, where the country was amazing. We had already been in Fiji at this point prior to Africa so we came back to set up here."
Alice said she wouldn't reach where she is today without the support of her husband and the assistance from her glassblowers – Laisa and Pita.
"They are my left and right hand. I am proud that I've taught them a skill which they will have for life," she said.
"Now I have three children and I have the wonderful support of my husband who does a tremendous job behind the scenes. He helps with marketing and really pulls things together. So yeah my journey's been fantastic. I just can't regret anything."